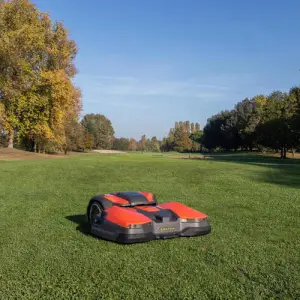 The future is to be more sustainable
The latest generation robotic lawnmowers have high performance for the maintenance of large areas, being equipped with the technology to operate without the aid of perimeter wires. They work autonomously and systematically within the virtual boundaries, allowing for flexible turf care.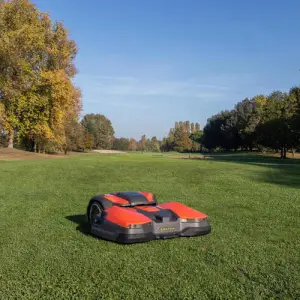 They deliver highly professional results for sports fields by operating silently and with zero direct emissions.
From a technical-maintenance point of view, Italian golf courses often lose the battle against courses from other countries on finishes and services, as the latter are not always up to par. For budgetary reasons, the camps are in fact forced to employ an insufficient number of workers who, having to devote themselves to the most essential jobs, omit those details that sometimes make the difference.
As an example:
Golf course refinements
 Edges not always well defined and clean.
 Sand not raked with due frequency.
 Dirty roads.
 Neglected areas around reception.
 Poorly maintained trees.
 Leaves left along the way.
 Presence of various waste in the course.
 Course furniture and courtesy signs in disarray.
Services
 Poor support before and after the game.
 Absence of a starter to give information on the course.
 Lack of control on the golf course to improve playing time.
 Poor caddy master service for the maintenance and cleaning of certain areas of the golf course.
The possibility of automating some maintenance operations and therefore saving hours of work, will make it possible to carry out all these other jobs, apparently secondary, but in reality essential for significantly raising the level and therefore the competitiveness of our golf courses and without any danger for the jobs.
 POSITIVE ASPECTS FOR THE COMPANY
Economically: optimization of work, reduced operating costs of the machines, greater safety at work.
Environmental: lower CO2 emissions, lower noise, no loss of oil and fuel.
Aesthetics: greater attention to detail and finishing.
 POSITIVE AND ATTRACTIVE ASPECTS FOR THE VISITOR
Technological: the implementation of new technologies is a very attractive element for foreign visitors.
Environmental: sustainability is a strong point of attraction for people.
Aesthetics: the improvement of the maintenance and condition of the course, together with the services, are the fundamental elements for golf tourism.
Services: allocating fewer resources and wasting less time in maintenance of the golf course (greater efficiency of resources) make it possible to improve the services offered to tourists and consequently to improve the image of the course.
So we can conclude that this type of technology is of great help in improving our relationship with the planet and being more efficient. Because golf is a sport that breathes nature and life.